Technovation Challenge national pitch 2016
01 Sunday May 2016
Written by ADEL KASSAH in Events, Uncategorized
≈ Comments Off on Technovation Challenge national pitch 2016
English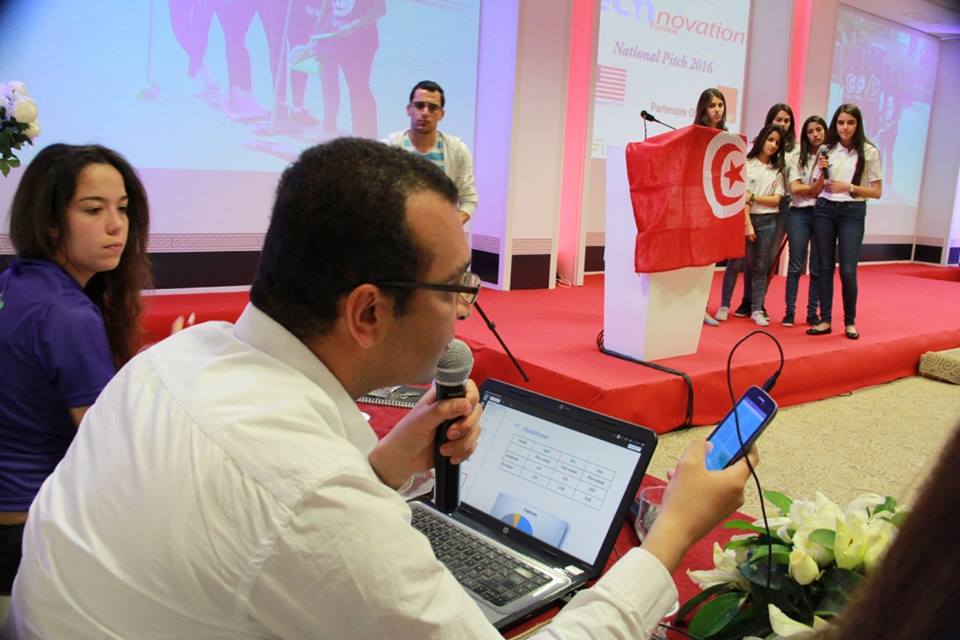 For this second edition, I've been asked to be a judge in the Technovation challenge. In this competition, girls from 10 to 17 should make mobile apps that resolve a community issue. I was highly surprised by the quality of the presentations and the way girls were defending their idea. Although English is the third language in Tunisia, these little girls did not have problems to express them self.
The event was sponsored by the US embassy in Tunis and the telecoms operator "Orange".
Français
Le premier Mai 2016, j'ai eu l'honneur d'être pour la deuxième fois parmi le jury national de la compétition internationale Technovation. Cette compétition a pu rassembler une super élite de filles Tunisiennes âgées entre 10 et 17 ans. Des filles qui étaient appelées à réaliser des applications mobile pour résoudre un problème dans la communauté. Ces filles sont vraiment exceptionnelles à tous les niveaux: la maîtrise de la langue Anglaise, la façon de présenter les applications, la façon de défendre les idées, le vocabulaire employé. Le jury discutait avec une fille qui n'avait que 13 ans et j'avais l'impression de parler avec un adulte et sur un thème lourd. D'habitude, j'essaye d'adapter mon vocabulaire à l'âge de mon interlocuteur. Mais, avec beaucoup de jeunes filles je n'ai pas eu besoin à le faire.
A chaque présentation, je sentais une nouvelle vague d'énergie positive qui nous envahissait. Et à chaque nouvelle présentation, c'était une autre façon de présenter, on dirait que les idées n'en finissent jamais. Rares sont les événement où on peut sentir cette énergie. Le plus proche serait peut être TuniRobots même si ce n'est pas la même catégorie. J'étais vraiment éblouit par le niveau et je n'arrivais pas à croire qu'on a en Tunisie des filles aussi jeune, aussi dynamique avec un tel niveau et enthousiasme. Pourquoi? Comment elles sont arrivées là? Beaucoup de question sans réponse. Une chose est sûre, malgré leur jeune âge, je considère que leur rencontre ma marqué et je me considère chanceux de faire partie du Jury et d'avoir l'honneur de les rencontrer. Est ce que je suis en train d'exagérer? Absolument pas! L'expérience Technovation c'est comme le voyage: un ensemble de moments à vivre pleinement … que les mots seront incapable de les décrire.
What next? This is the question now!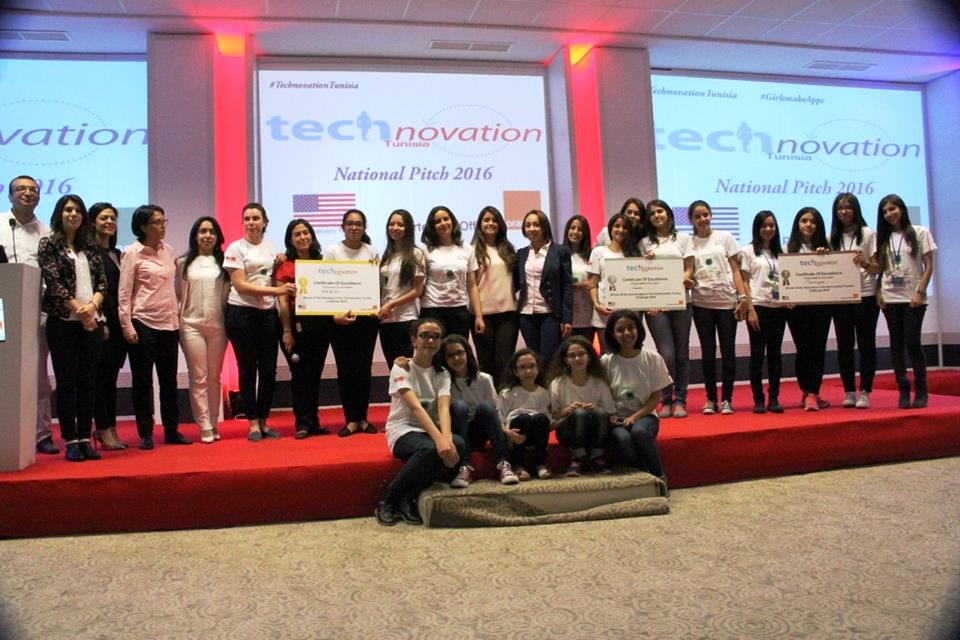 Photo credit: The US Embassy in Tunis : Facebook link
Technovation Tunisia national pitch 2016 video